Today is August 1st. August is my favorite month because it is my birthday month! And I was obsessed with buying school supplies and new clothes as a kid so August always shaped up to be my favorite month. But this month……..I turn 30. Wowzers. I'm hoping for great new beginnings and not to have too big of a meltdown.
Instead of sulking, let's celebrate! I want to give something away to an awesome family expecting a baby. Do you have a beautiful nursery coming together that you'd love documented? I want to shoot lifestyle newborn photos in your home and in THAT GORGEOUS NURSERY! Here is the simple version of the contest on Instagram: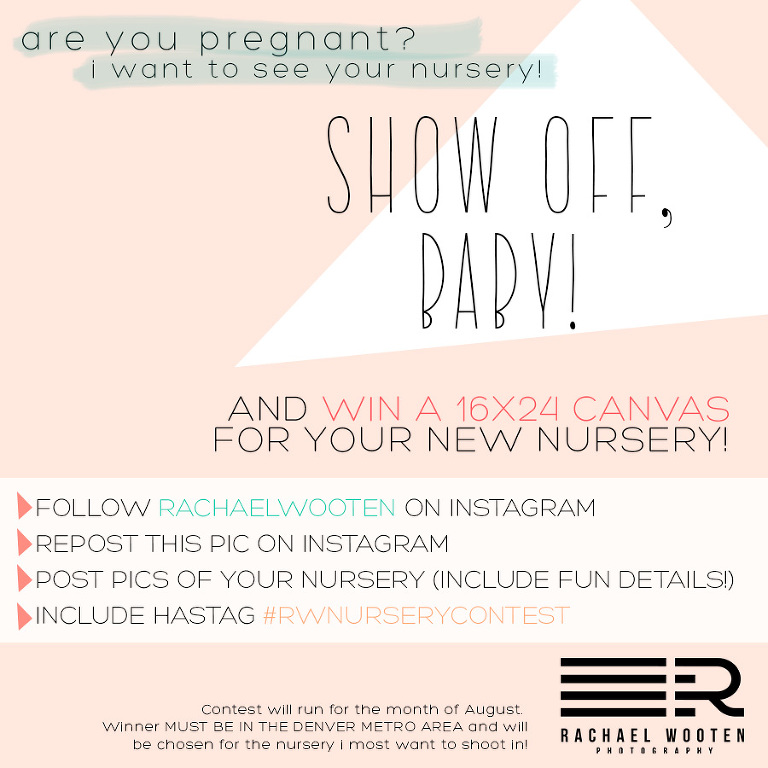 The winner will need to book a newborn session with me to redeem the free 16x24inch, 1.5in deep Gallery Wrapped Canvas. They are stunning and an amazing way to show off your beautiful photos as artwork. It will definitely put the final touch on the baby's room! If you really don't have instagram I'm happy to let you post to Facebook instead. Same rules apply: like my page at www.facebook.com/rachaelwootenphotography, repost this photo on your Facebook wall, post the pics of your nursery on FB and include the hashtag #RWnurserycontest.
Simple as pie. I can't wait to see what you come up with! I don't care if the nursery is still in boxes or anything. Show me all the pieces that will back up the whole room for the win. Good luck!