I've never shared any before + after shots here so it's about time! When I walk into a home for a newborn shoot, most clients have never experienced my kind of shooting style. Depending on the situation there is always a mix of lifestyle images with the family around the home and posed portraits of the newborn alone. I don't typically do a ton of props or crazy posing, but I do sometimes when I find great items around the home. When I was starting out in photography way back in the day I would see the images of babies balanced in crazy ways and wonder how in the world it could ever be safe. I quickly learned that it was not. While some do take the chance and let the baby hang in totally ridiculous situations, I was not going to do that. I love getting parents involved in my shoots and they act as great spotters. Thankfully we have Photoshop and I can take a gorgeous photo of the baby in the pose we want while keeping it safe and secure.
Here little RJ was tucked inside a cowboy hat, but as you can imagine, the hat wanted to fall right over as soon as you moved your hand. We could've got it to balance, but that would have been way too unsafe for such precious cargo. In the left image you'll see Dad was right next to RJ using his finger to keep him from tipping. I use one finger so it keeps the clean up to his skin minimal. He still had some big wrinkles, but in the moment we had to go with it. I can easily recreate the skin as you can see in the finished image so I wasn't too worried about that. We knew he was still not as balanced as we'd like so Dad would have been able to use his other hand immediately if needed and Mom was right off RJ's other side as well. Everyone was happy, RJ was in good hands and Mom and Dad have an amazing image for their walls!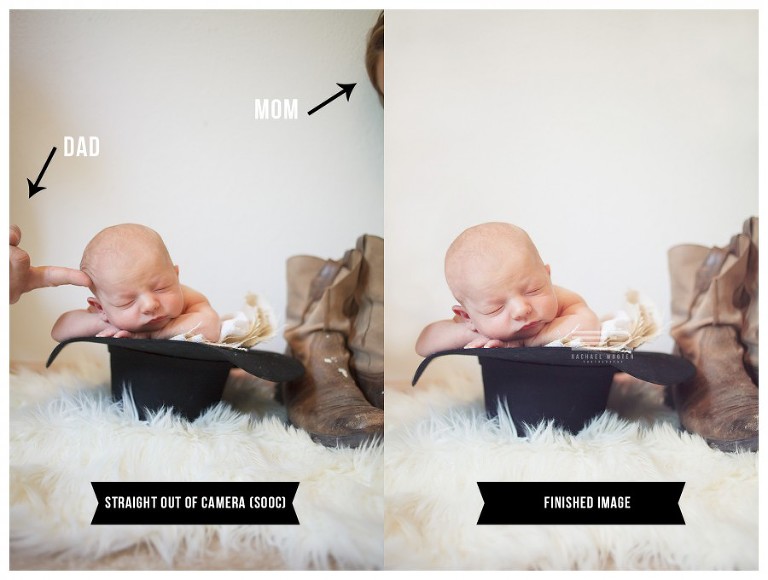 Shoot me any questions quickly right down there in the comments box! If you want to see more B+A shots like this or even of my senior portraits, let me know that too!