Last year I was so not into Christmas, like usual. I don't know why, because believe me, I love to shop. You'd think I'd be all over this holiday. For whatever reason Christmas usually annoys me more than anything. That's real talk, sorry.
But….my heart grew three sizes this year for some reason. Today is the day after Thanksgiving and my tree is already up! Maybe it's the addition of another little boy (not baby) in the house this year and that we are doing a total no-pressure holiday. I'm happy to buy gifts for my boys and honestly, all the other stuff doesn't have to be a big deal. I think it is all the pressure and expectation that surrounds Christmas that gets to me. I decided to overhaul my tree decoration, including making some of them myself, and that has also helped renew my spirit. I went with an all neutral + metallics theme with silver and gold sparkles and lots of burlap.
This year we adopted another little boy, Shawn the Elf. I'm sure most people have heard of Elf on a Shelf at this point. The little elf is sent from Santa with a book explaining the process of his magic to report back to Santa each night while we sleep. The funny thing about our elves though is that when they fly back home they get bored waiting for us to wake up. They typically are caught each morning in the middle of some sort of naughty act.
Shawn's first night in our house was an eventful one. We woke up to a fully erect Christmas tree and Shawn tangled in the tinsel. 🙂  All the amazing follow-up questions out of Carson already today have made the whole process worth it. If you haven't done this yet and want to there's still time! Many people bring their elf out on December 1st. You can find them at Target or I got ours on Amazon. I mean the North Pole.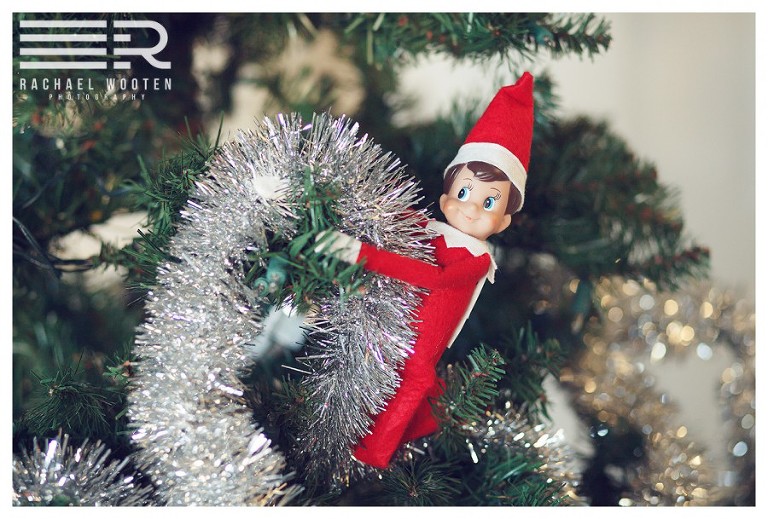 Did an elf on the shelf visit your house this year? I'd love to see what he/she is up to too! Tweet me or tag me on instagram or Facebook! I'll for sure be instagraming all of ours.