It's that time of year. Family photos….. Dun, dun, DUN! You've found the perfect photographer (hopefully me…wink, wink), a great location to shoot at and have a vision of that awesome artwork hung on the wall.
BUT WAIT! What are we going to wear???  And panic ensues.
We all go through it, trust me. I love clothes and help style sessions all the time, but freeze up when it comes to my own family. You've heard me say over and over, "Coordinate without being matchy-matchy." Well, that's easy to say, but how does it translate to you and your family photos? There is a specific order you should approach your family outfits in order to save a huge headache at the last minute.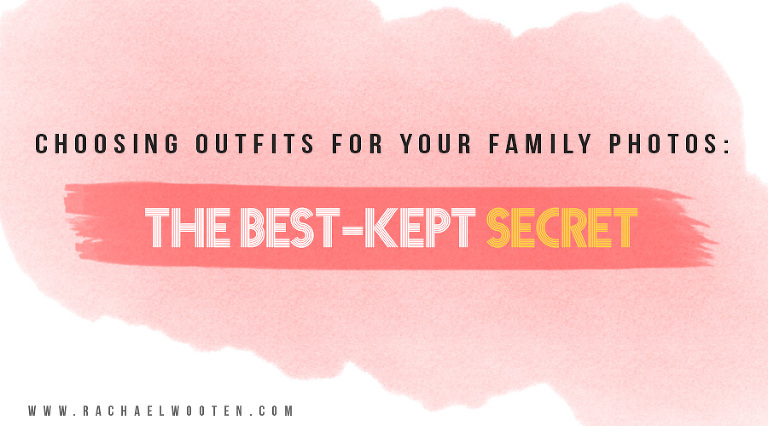 Are you ready?…………… DRESS YOURSELF FIRST!
Seems so simple, but no one has ever said that to me, and I would have really benefitted from it. Understand I'm assuming if you're reading this you're the lady of the house, regardless of your specific family mix. We all know Mom is solely responsible to coordinate family photo efforts and you can feel so alone in the process (unless your family photos are happening with me!). What do we know off hand? The kids are by far the easiest to dress because they're the most fun to dress. The problem with this is that there are a million combinations we can put on them that would look great because they don't have to worry about the way something fits. In my wise years I've learned that as a woman I need to focus on fit before anything else. Screw what it looks like on the mannequin or model. If my clothes don't accent my body right I'm going to see the photos (aka, my lumpy this or that) and never want a single one being seen again!
Let's get some honesty out there…. We don't care if little Billy is making the cutest face in the world; if I feel like I look bad in a photo, it IS NOT going on my wall. And the ultimate goal of a family photo session is to make good use of all the time and money invested and get that custom artwork adorning your walls! If I'm the one decorating the house and walking by my own mug staring back at me each day, I want to make myself everyday-self jealous. You know what I mean, right?! I should be looking at the very best version of me; which is also the reason I offer makeup session to moms! Get yourself to be a 10 and the others will easily fall around you.
Why am I bringing this up now you ask? I literally just ignored my own knowledge and judgement this week. I booked our family session and quickly came across outfits I loved for both of my boys. Of course I impulsively scooped them up without any thought of myself. The problem is that I quickly pigeon-holed our color scheme and pattern options when I hadn't tried on a single item for me yet. As a result I spent Friday, Saturday AND Sunday at Park Meadows and Flatiron Crossings scouring the stores for something that I could rock and would coordinate with their outfits. Bad, bad idea. Now, it's entirely possible that I may have ended up with the same result for myself, but I found myself passing up on certain pieces because they were way off style or color. And let's face it, Dad is pretty much in the same category as the kids, at least in my house. As long as I buy the right size he'll put on whatever comes home in a bag. PLEASE DON'T MAKE THE SAME MISTAKE AS ME!