In my last blog post I excitedly explained that I am starting to shoot high school senior girls. Now is the time to get this all put into action! Unfortunately, I hang out with a bunch of toddlers so I need help finding 2013 senior girls. That's where you come in.


I have put together an awesome program for some lucky girls to be my Senior Reps. What is a Senior Rep you ask? Well, a Senior Rep is a representative of me and my brand. They get a full senior portrait session with me including professional hair and makeup, then share all their photos on Facebook and with rep cards. Once anyone they refer books a session, the rep then gets paid for their work. Who wouldn't want to do that??? My rewards program offers cash, digital image files and even an iPad 3! (I'm even thinking of doing a Mommy Rep program too…any interest?)
I am only accepting a few girls and need to set up the shoots right away so they're done before the school year starts. I'm okay with begging…….PLEASE forward this post or this page onto anyone you know in the Denver Metro area who is going to be a senior this year or has daughters who will be. You can easily post it to FB (and share to friends' walls), twitter, email it or send it right from the bottom of the post. You can even pin the pic below! (I may even give a goodie to anyone who refers a senior and also wants a session with me!)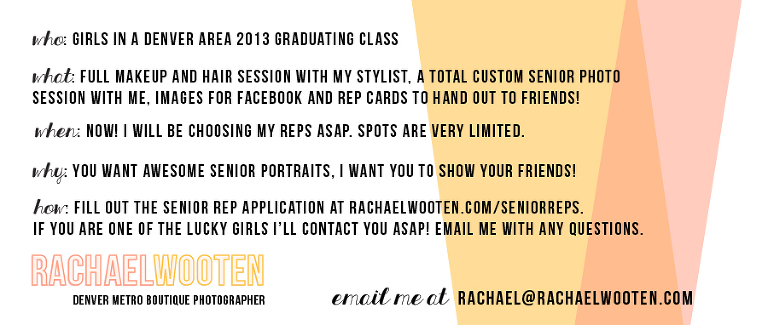 Or if you are reading this and are a 2013 senior girl, go fill out my application! It's at www.rachaelwooten.com/seniorreps.
If you're not already, follow me on Facebook.  Are you ready to talk about your photo session with me?? Hit that CONTACT tab up top and lets chat!