Today I'm loving skirts. It's the first day of September. It's not quite fall yet, still warm like summer. Skirts make a great transition between seasons. I put together 3 sets here to illustrate how to dress different body types and styles. I'll say it every single time I post these: remember color, pattern, texture, shine.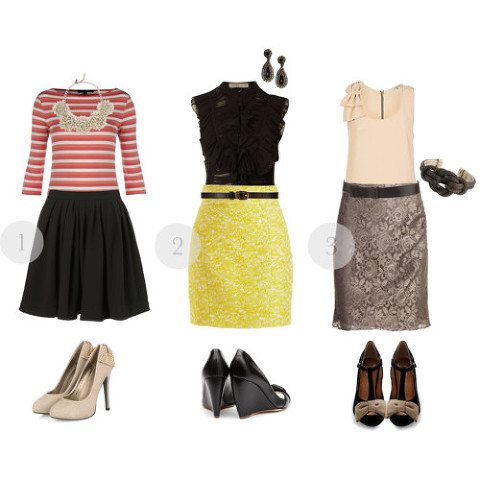 1. This set is for a more straight body. It's casual with some dressy pieces to keep it pretty and feminine. Wearing stripes and pleats will add volume and create shape if you don't already have it naturally. The bib necklace will draw attention up to your face and add some fullness if you also have a smaller chest. I'm typically a fan of peep toes shoes, but these have a great color and shiny bow detail on back that make them adorable. This look would be beautiful in a golden field. The black would be a nice contrast and the neutrals would be just soft enough to all blend nicely.
2. This style is great if you want to balance out a larger top-half. Your eye will go to the lighter part of the outfit, the yellow skirt, which also creates a nice coke bottle shape in your hips. It will downplay your top because it's black, but the shirt still has great texture and definition on it's own. Wearing the skirt high with a thin belt will make your waist look tiny. I'm also a HUGE fan of skinny-heeled wedges. They aren't quite as awkward as a stiletto and not as bulky as a full wedge. I have a pair like this that I have worn to death! They look great with skirts, dresses or jeans. I picture this look in a great urban setting with dad in dark jeans and a button down and the kids in bold colors.
3. This look will suit someone with larger hips the best. You see the light piece is up top and the skirt hits the waist up at the smallest point. The skirt flairs out a little at the bottom instead of tapering in. The light top and wider bottom hem will make the hips look smaller in comparison. You're also going to be drawn up towards the face with a nice bow accent or you could add a chunky necklace if the shirt is plain. A pair of T-strap heels are beautiful. Just be careful to wear straps around your ankle if you are trying to create a long leg line. They can make certain people actually look shorter. This look is so soft and feminine. It would pair great with your man in a tailored suit. I'd love to contrast the lace by shooting in a grungy lot or building. Mixing textures and feelings keeps things interesting and dreamy.
I know these looks are all pretty dressy. You don't have to go so fancy, but it's always fun to get dressed up. Many moms don't wear outfits like this on a daily basis. But you want your photos to be you, but the best version of you. If you take the time to add the small details and find an outfit you love you will want to stare at your photos forever! Dressing your hubs and kiddos after one of these outfits will just be the icing on the cake. Also remember these may look super expensive, but you don't have to break the bank to look great. It's about mixing what you already have with statement pieces and no one will know the difference!
Email me to book a session and we can get you looking fabulous in no time at all! 🙂